We, the people of Burma, were very happy for aunty Suu was released. Everybody was waiting for her release since Friday. But she was released in the evening of Saturday (2010-11-13-17:15). We love her so much that we regard her as a mother of Burma. Like the children missed their mother who was away for 7.5 years, we all want to see her very much.
I went to NLD head office today to listen to the speech of aunty Suu. Although I reached there exactly at 12 o'clock, I learnt that I was so late, there was a huge crowd. But, I could manage to reach to the opposite side of the road which is exactly facing to NLD office. Even from there, I could not hear or see her at all. All the people wanted to see her and hear her voice. it was very stuffy in the crowd. But I think there must be more than thirty thousand of people waiting for her speech.
I could take picture like this only today, very far :(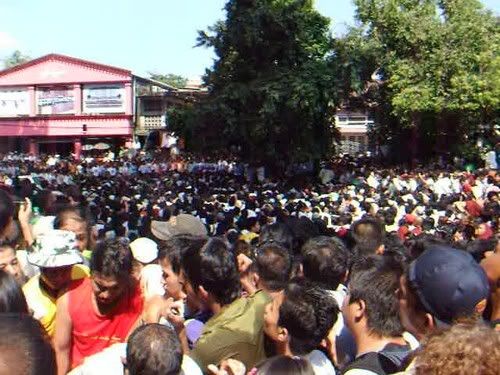 Following picture is from Mizzima news.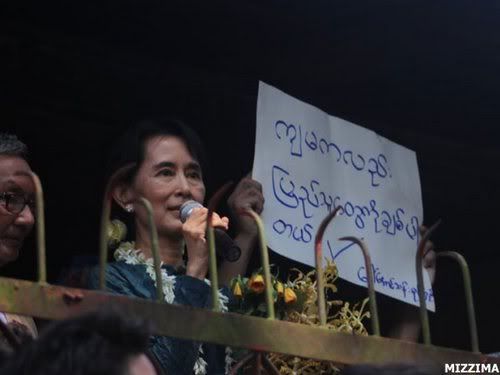 ေဒၚေအာင္ဆန္းစုၾကည္၏ မိန္႔ခြန္း
http://www.irrawaddyblog.com/2010/11/blog-post_8807.html
ေဒၚေအာင္ဆန္းစုၾကည္ မိန္႔ခြန္းေဟာေျပာပြဲ ႐ုပ္သံသတင္း
http://www.irrawaddyblog.com/2010/11/blog-post_2659.html
UPDATE:
After seeing some photos of the crowd taken by journalists, my estimation that thirty thousand people audience was wrong. Some news agency said, there must be around 100 thousand of people came to the speech of aunty Suu.

Photos:
http://www.htootayzar.com/myblog/2010/11/aung-san-su-kyi-speechs-nld-headquarter/
https://www.facebook.com/album.php?aid=26548&id=100001093486173

http://www.facebook.com/photos.php?id=158797964140471#!/album.php?aid=32484&id=158797964140471

ေဒၚေအာင္ဆန္းစုၾကည္ မီဒီယာမ်ားႏႇင့္ ေတြ႕ဆုံ


ေဒၚေအာင္ဆန္းစုၾကည္ ျပည္သူမ်ားသို႔ မိနစ္ ၅၀ ခန္႔ မိန္႔ခြန္းေျပာ ရာတြင္ အမ်ဳိးသားရင္ၾကားေစ့ေရး ဦးစားေပး လုပ္ေဆာင္သြားမည္ဟု ေျပာၾကား


ေနအိမ္အက်ယ္ခ်ဳပ္ၿဖင့္ ၇ႏွစ္ႏွင့္ ၆လၾကာ ဆက္တိုက္ ထိန္းသိမ္းခံထားရေသာ ေဒၚေအာင္ဆန္းစုၾကည္ လြတ္ၿပီ


ေဒၚေအာင္ဆန္းစုၾကည္ လြတ္ေၿမာက္ၿပီးၿမင္ကြင္းမ်ား